What's it for? #
With this module, you can add users to your cash register.
For example, you can add your own employees, and you can even assign a role to each of your employees and limit their permissions.
Ideal if you're suspicious of one of your employees, or if you're simply a security buff.
You will also be able to define a code when editing an employee, which will be requested each time the employee logs on to the cash register.
No one will steal YOUR sales!
Module description: create different employee profiles / define access rights / add a personal code.
Create user profiles for your employees
View your employees' statistics/actions
Define access rights for each employee
Quickly switch from one employee to another
You will find this module in the "USER MANAGEMENT" sub-menu, "Users" tab and "User settings" tab.
You can also change users from the sales screen in the top right-hand corner.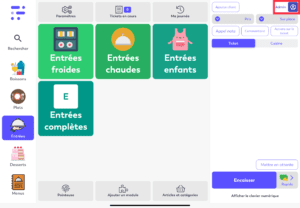 You can add, modify and even delete cash-desk users from the parameters, in the "USER MANAGEMENT" sub-menu, "Users" tab.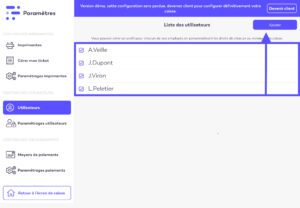 This will allow you to select the user at time T of the checkout.
You can also go to "User settings" (this tab is located just below the "Users" tab).
In particular, you can put the current ticket on hold when the user changes, and select the employee each time the application starts up (this also applies when the application goes into standby mode).