Easyshop payment terminal configuration #
To connect your Viva Wallet terminal to your Easyshop POS software, you need to know which type of connection is possible.
3 types are possible:
1. Via API (NEXT, or other Android TPE) Connection recommended
2. ECR cash register connection – TCP/IP (On Q30 models – Older model)
3. APP2APP if you want to convert your order PADs into TPEs
For these 3 cases, you must first activate the Viva Wallet payment module.
Go to "Settings" then "Modules", search for "Viva Wallet" and activate it.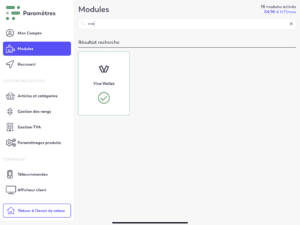 Then go to the menu on the left and find the "Payment terminals" section to configure your reader.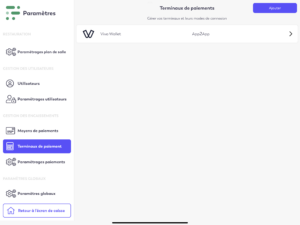 Connection via API REST #
The API function enables your cash register to send the transaction amount directly to the POS terminal, without you having to enter it manually.
To do this, go to the Viva Wallet interface: https: //accounts.vivapayments.com/Account/Login
Log in with your account and retrieve two pieces of information that you will need to enter back into Easyshop:
To do this, go to the "Transaction" tab, then "Physical payments" and finally "Card terminals".
Next, retrieve the terminal ID and enter it into Easyshop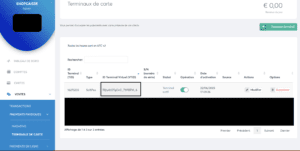 Next, go to "Settings", then "API Access", and copy the merchant ID you will find at the top of the page in Easyshop.
Then save and your TPE is ready to go!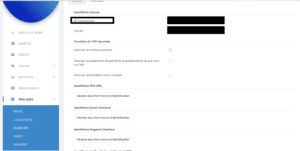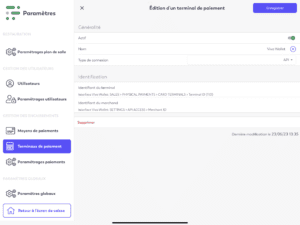 To connect a TPE to TCP/IP #
For TCP/IP operation, the payment terminal must be connected to the same network as the tablet. Either via Ethernet cable or wifi.
Select TCP / IP connection type.
How do I find the payment terminal's IP address?
We recommend setting a fixed IP address on the terminal. Here's how to do it:
Red button

3 System

2 Network

1 Ethernet

2 IP settings

2 static IP
Next, you need to activate the cashier or ECR connection mode on the terminal. To do this, follow the steps below:
Red button

3 System

4 Final inspection

1 ERP/ECR support

1 Status -> to activate
This will give you your terminal's IP address, which you can enter in the IP field on the screen below.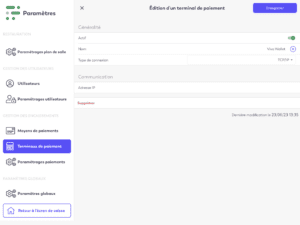 How APP2APP works #
APP2App operation lets you use the same tablet to operate the cash register or a control PAD.
If it has a card reader and/or NFC function, you'll be able to accept payments directly from the tablet.
We also offer Android terminals that will enable you to accept contactless / smart card payments.
You can even print out your customer receipt from it.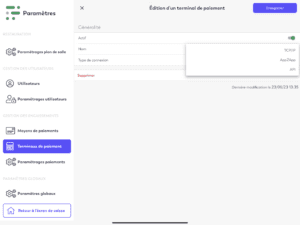 To configure terminal management in Easyshop, select APP2APP, then download the "Viva Wallet payment" application on the terminal where it will be used, and log in.
How do I configure several EFTPOS terminals on my cash register? #
It is possible to use several EFTPOS terminals on your till. To do this, you need to set up an EFTPOS terminal. You can easily do this from the payment terminal screen.
Next, you need to create a payment method for each terminal. (A terminal can be associated with several payment methods).
Let's move on to payment management: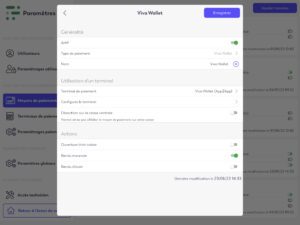 On this screen, create a new payment button with the name of your payment provider as the payment type.
Here: Viva Wallet
Then for this payment button, you need to select the payment terminal that will work with it. (The one we created in the previous step)
Then you need to define whether it will be available, for example, on the central cash register or only on your order PADs. (APP2APP operation).
Use with PADs for APP2APP #
Now we'll look at how to configure an APP2APP terminal for remote control operation.
Go to remote control management.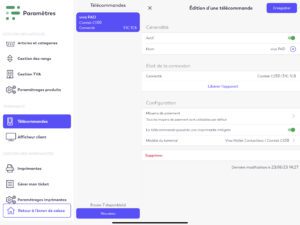 Select the payment methods you wish to have on it.
Don't forget to select the one you've just added!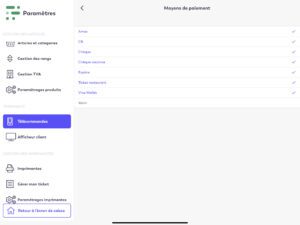 If you are using the NEXT reader with a printer, you can select receipt printing directly from the terminal.