How do you create a product? #
Creating a product is very simple.
First, go to the settings screen (by tapping on the application logo, top left from the main menu).
Once in your settings, go to the "Items and Categories" tab, available in the "ITEM MANAGEMENT" sub-menu.
Then follow these steps:
Press "+", then a white square, then "Create product".
Complete the line visible on the receipt
→ Fill in Line 1 of the button (optional)

→ Fill in Line 2 of the button (optional)
You can add a color to your buttons, and even an image.
→ To do this, press the icon next to "Button background color".

→ To add an image, press the icon next to "Image button".

→ To do this, please activate the "Images" module
Set the VAT rate for your product
→ You can have an on-site VAT rate

→ You can also have a takeaway VAT rate; to display and modify it, activate the "Takeaway" module.
Fill in the sales price including VAT of your item
→ It is possible to add several tariffs to the same product. To do this, activate the "Multi-tariffs" module.
You can also enter the latter's purchase price excluding VAT
→ The purchase price before tax represents the gross margin amount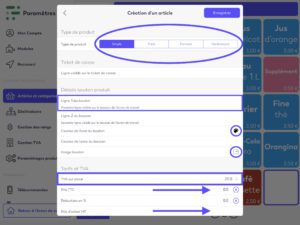 If you have seasonal items, then "Link product" will be indispensable. It allows you to link (or unlink) your products.
So they won't be deleted, just removed from the button, and you can put them back whenever you like!
→ Example, some of your buttons are dedicated to summer products, but we're now in winter (and yes, it goes by fast…), to make more space on your checkout screen, feel free to simply unlink the summer products you'll link next summer!

→ This will give you more space on your home screen without having to recreate all your summer products.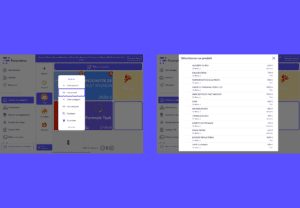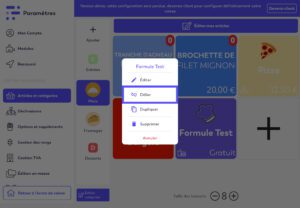 You'll also be able to edit your items one by one from the catalog, without having to go to a specific category each time to find the item you want to edit.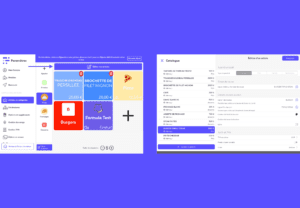 Further information #
That's not all you can do in article editing.
In fact, by activating certain modules, you can further enhance the article editing form.
Here is a list of features that can be added, along with their corresponding modules. Click on a feature link to access its instructions:
Pack → "Article pack" module

Formula → "Formulas / Menus" module

Declinations → "Declination management" module

Variable-price product → "Variable-price item" module

Unit → "Article with units" module

Price lists → "Multi tariffs" module

Product details → "Product family" + "Supplier" module

Stock → "Stock" module

Barcode → "Barcode reader" module

Generate barcode / Print barcode → "Generate and print barcode" module

Item rows / Kitchen printer → "Preparation order management" module

List of supplement groups → "Options and supplements" module