From Shopcaisse to Easyshop #
Why change software? We'll explain everything!
As you know, Shopcaisse has been running cash register software for 10 years, and now it's time for the next generation to take over.
That's where Easyshop comes in, a cash register software similar to Shopcaisse but without the latter's disadvantages. It's already a lighter interface, with sleek colors reminiscent of new technologies. And for good reason, this software is on a whole new level, already featuring a back-office, which, for the more novice among you, will give you access to ALL your statistics.
If you'd like to check the day's sales from the comfort of your own home, now you can! You can even create, modify and view your products from the comfort of your sofa, creating the best possible user experience.
In addition to this, Easyshop has a system of "modules". YOU decide which modules you need, and all you have to do is activate them.
Ultimately, you'll have a "lighter" interface than Shopcaisse, PLUS the ability to navigate the application using ENTIRELY customizable shortcuts.
As you can see, Easyshop is a new, frequently-updated software package, whereas Shopcaisse will no longer undergo major upgrades. As a result, customer feedback plays an important role in continuing to improve the application and continually enhancing our customers' experience by making their lives as easy as possible.
Staying with Shopcaisse in 2023 is a bit like continuing to use your iPhone 5s.
(yes, the iPhone 5s dates from 2013…)
Easyshop – Migration process #
Current Shopcaisse customer? Would you like to migrate to Easyshop?
Then this guide is for you!
First of all, to carry out a migration, please make an appointment with our technician.
https://calendly.com/easyshop-yannis-b
This is the link to a calendar where you can make an appointment for the date and time you wish to migrate.
You will then need to bring :
-your tablet (with IOS 12.3 or higher)
-an Internet connection
-your Appstore password
-a credit card (to take out the new Easyshop subscription)
For those who have taken out a Shopcaisse subscription for 1, 2 or more years… Don't worry, the remaining months of your Shopcaisse subscription will be deducted from your Easyshop subscription. So you don't pay for two subscriptions!
Some information will not be migrated. They include :
-sales data (and therefore statistics)
-photos you could have added to your checkout buttons
-instructions
-accounting
To compensate for this, a FREE version of Shopcaisse will be made available to you, allowing you to consult your old statistics etc…
Before getting to the heart of the matter, it is also important to remember that certain functions are no longer, or not at all, supported in Easyshop cash register software, such as :
-deposit management
-management of reservations or product orders
-the use of a preparation kitchen screen
-use of the ticketing service
User profiles and loyalty programs will also have to be reconfigured.
The remote controls for in-room control are still there, and they're even more powerful. Beware, however, that they become paying options, to be charged in addition to the Easyshop subscription package.
In return, we provide you with a complete back-office for FREE, enabling you to consult your statistics, edit your products and customers, and manage your inventory from a single computer.
Now that that's out of the way, let's get started!
Once you've booked your appointment with the technician, he'll guide you through the entire migration process (about 10 steps, or 20 minutes).
The migration ends with the subscription to Easyshop and the synchronization of your data. Once you get there, you'll be (almost) left to your own devices, but that's all right – these instructions are here for you!
Easyshop – From Shopcaisse to Easyshop, the comeback #
But then, if we migrate, how will we find our old menus, and what will they correspond to in the new application?
You'll see, it's relatively simple ("relatively" is there to reassure you if, despite the guide, you still don't understand).
The first big change is to the menu: Shopcaisse's "Other Actions" is transformed into Easyshop's "Side Menu" (accessible by pressing the application's logo, top left).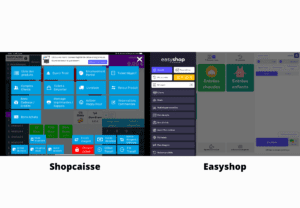 Another difference is that unlike Shopcaisse, here on Easyshop you'll need to "Open the day" at the start of each day. To do this, simply go to the application's side menu, press "My day" and you'll then be able to open or close it!
Remember also to press "Close day" when the day is over, following the same procedure as for opening.

The second big change is the "Statistics" section, which can now be found both on the side menu in "My day" and in "Advanced statistics", also on the side menu.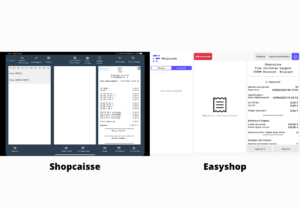 The third big change is the "Settings" menu, which has now become "Parameters", also accessible from the side menu.
From here, you can activate your modules and find them either in the "Side menu" or in "Settings".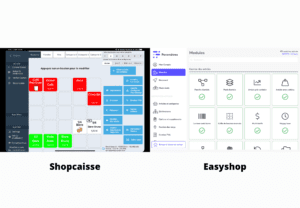 You see, it's quite simple, isn't it? The trick is to get used to the new names, and as they say, "Rome wasn't built in a day".
Easyshop – Using the application #
You'll notice that when you click on a module, you'll first be told what it's for and then how to use it. In this section, we often refer to "submenus" and "tabs".
Here is an example of a sub-menu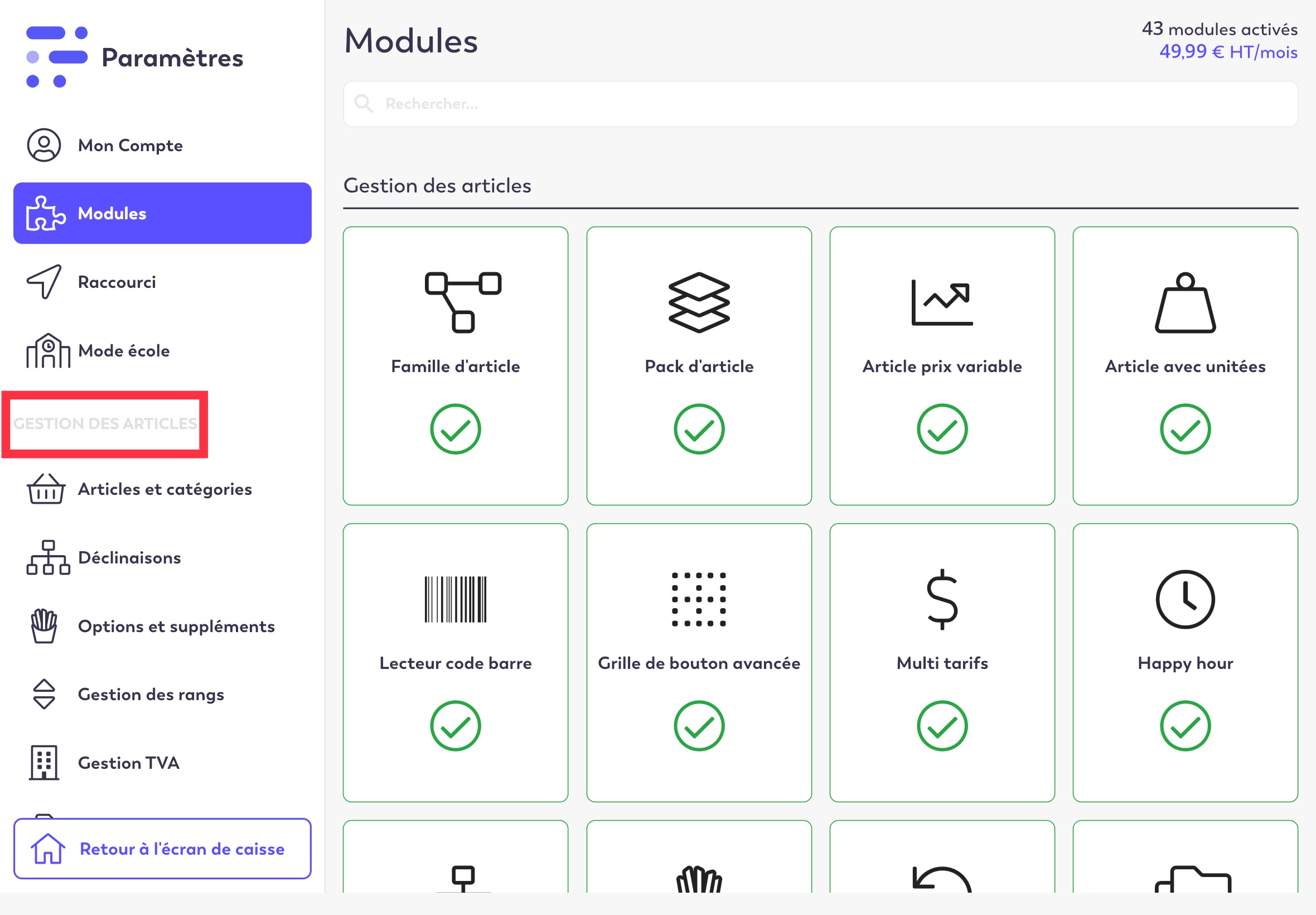 Here's an example of a tab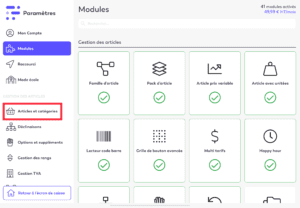 Easyshop – Using the modules #
But first, what are the modules for?
Unlike Shopcaisse, where all modules were activated, here it's up to you to decide whether or not to activate them.
Would you like to monitor your business in real time without having to be on site?
Then simply activate the "EasyStat" module, download the EasyStat application from your smartphone's store (Play Store or App Store) and log in with your Easyshop credentials.
On the other hand, if you don't want to bring work home with you and don't see any point in using this module, then leave it deactivated – it's up to you.
45 modules can be activated FREE OF CHARGE in the Easyshop application
Here's a non-exhaustive list of modules you can add.
Article family (create or modify an article) #
Module description: create item families to group them together for statistical purposes.
More comprehensive statistics
More precise product organization
Includes several products together
You can access it from the settings menu in the "ITEM MANAGEMENT" sub-menu, "Items and categories" tab.
Click on "Create product" if you are told you can find your module on the "Product creation form".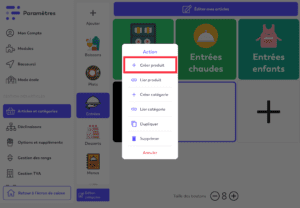 Then select the product family to which you'd like to match your product!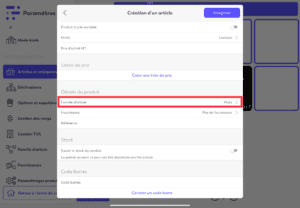 You can also add new items from the "ITEM MANAGEMENT" sub-menu, "Item family" tab.
Item packs; Formulas / Menus; Variation management #
These 3 modules will enable you to create different types of product from the product creation form.

As a reminder, the form is accessible from the "ITEM MANAGEMENT" sub-menu, "Items and categories" tab, click on the "+" to create a product.

Description of the "Article Pack" module: create groups of existing products while destocking them individually.

Grouping items together
Automatic stock management for each item
Create product compositions

Description of the "Formulas / Menus" module: edit formulas according to your needs / work with starters, main courses and desserts.

Create your own menus
Organize the various stages
Match your products to the steps to build your menu
Offer off-menu dishes at extra cost

Description of the "Declination management" module: quickly create several SKUs from a parent product.
You can also access the functions of the "Declination management" module in the "ITEM MANAGEMENT" sub-menu, "Declinations" tab.

Automatically create the product in all its colors, sizes… in just a few clicks
Modify all sub-products at once by modifying the parent product.
Each reference offers all the features of a standard product:

Stock management
Loyalty management
…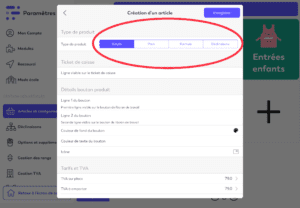 Floor plan #
Module description: edit and create your seating plan / manage your room.
Create your rooms, tables and decorations
Link commands to tables
Transfer, merge or group tables
To create a seating plan
You can access it from the "RESTAURATION" sub-menu, "Seating plan" tab.
To consult the seating plan
You can access it from the application's side menu, by pressing the "Seating plan" button.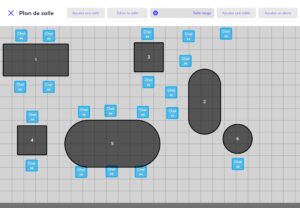 User management #
Module description: create different employee profiles / define access rights / add a personal code.
Create user profiles for your employees
View your employees' statistics/actions
Define access rights for each employee
Quickly switch from one employee to another
You will find this module in the "USER MANAGEMENT" sub-menu, "Users" tab and "User settings" tab.
You can also change users from the sales screen in the top right-hand corner.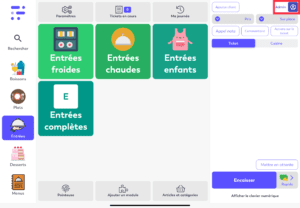 Cash fund management #
Module description: fill in a cash float / carry it forward automatically / make cash outflows and inflows.
Enter your float
Automatic daily deferral
Move money
You can find this module in the application's side menu (press the application logo at the top left of your screen). Its name is "Flux d'argent".
You can also access it by clicking on "Access configuration", the blue button in the top right-hand corner after clicking on the module.
You have 3 choices:
Automatic carry-over: the "total cash on hand" obtained at the close of your cash register will become the next day's cash float.
Recurring cash float: define a fixed cash float, which will be filled in automatically each time you open a new account.
Manual entry: define the amount of your float each time you open a cash register.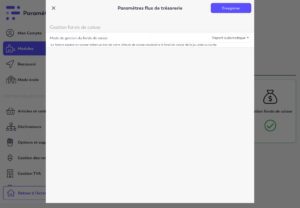 Stock #
Module description: fill in the stock for each product / view stock on the checkout button / define an alert threshold.
Consult your stock levels for each product in real time
Receive and issue stock
View all the actions performed on the stock by your employees
Set alert thresholds for your most essential products
You can access it from the application's side menu, by pressing the "Stock" button.
You can also access the "Track product stock" field from the creation form.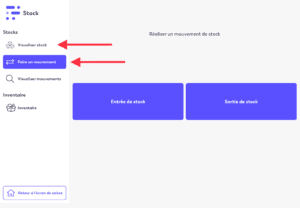 Inventory #
Module description: carry out an inventory to update your stock levels.
Take stock of your inventory
Automatic inventory updates
You can access it from the application's side menu, by pressing the "Stock" button, and then "Inventory".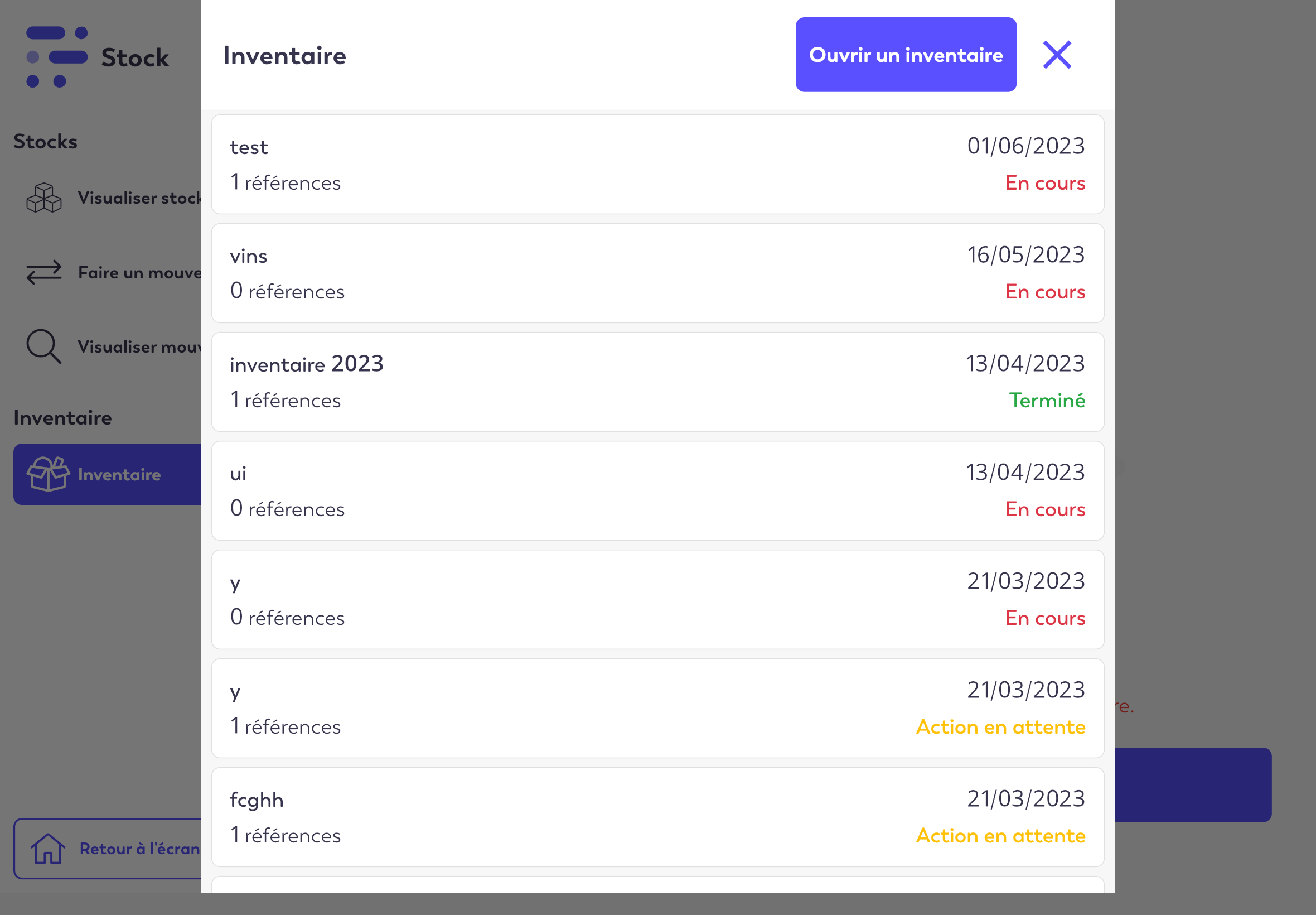 Advanced statistics #
Module description: Get complete statistical tables. Select a customized day, month or period.
Export accounting summary by email
VAT/cash receipts summary
Details of item / family sales
Cash flow (cash in / cash out / cash float monitoring, etc.)
You can access it from the application's side menu, by pressing the "Advanced statistics" button.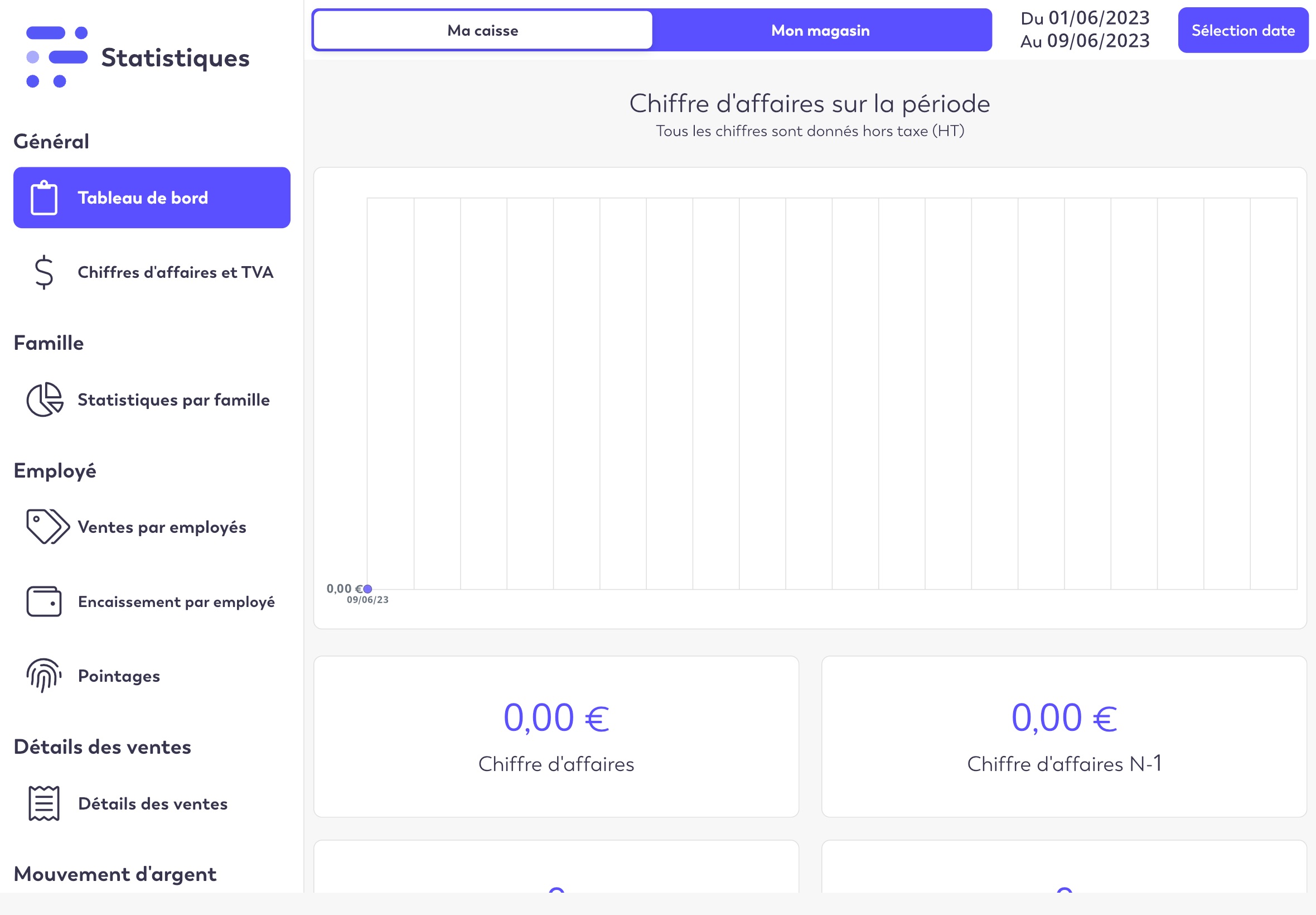 Easyshop – Using the pads #
Remote control (Easypad) #
In case you were wondering, a remote control is, for example, what the waiter in a restaurant uses to take your order.
This module allows you to have a remote control directly connected to your cash register.
You'll then find your menu and be able to enter tickets.
First, go to your remote control and download EasyPad by EasyShop.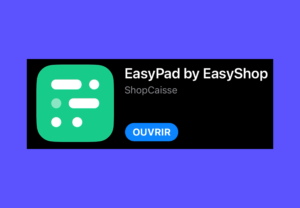 On your cash register, go to modules and activate the "Remote control" module.
Then go to the "TERMINALS" sub-menu, "Remote Controls" tab.
Then add a terminal, define its name and a search will be launched.
In parallel, go to the EasyPad application on your remote control, a search will be launched and the two devices will connect.
If you can't find your device, press "Device not detected".
You'll then be taken to a page showing your IP address, which you simply need to copy onto your remote control in "Enter IP manually".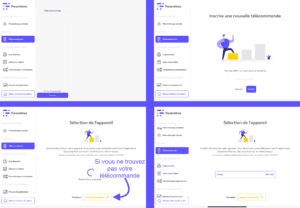 On your remote control :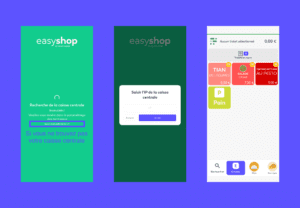 Easyshop – Using shortcuts #
You can choose to add shortcuts to make navigating the application easier.
To do this, go to your settings, click on "Shortcut" and that's it.
Choose the shortcuts you want to add!
An example of how shortcuts look in your interface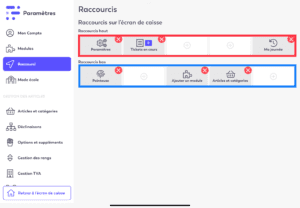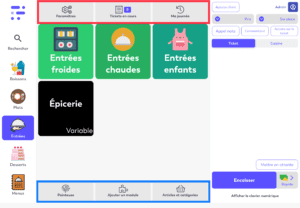 In particular, you can add the"Open drawer" shortcut!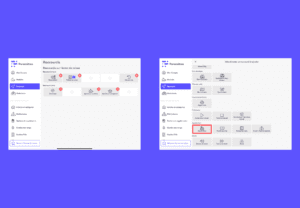 If you still have questions, don't hesitate to contact us on +33 9 72 37 09 80 or +32 8 128 01 20.
We are available Monday to Friday from 9:00 to 12:00 and from 13:30 to 18:00.