Using price lists #
To use this feature, please activate the "Multi tariffs" module.
Managing a price list allows you to set several prices on the same item, useful for sales, for example.
Note: if you have several stores, you can give each of them a different price list.
To use it, first go to the "Price lists" tab.
Then "Add", then "Create a new list".
Then create your price list by choosing a name, etc.
→ This is also where you can set your price list to "Default", or deactivate it if it's out of date.

→ Set "Default" to return to this price list after cashing out
Repeat this process until you have created all the price lists you want.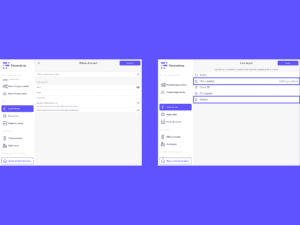 Once you have created your price lists,
Go to the product creation form
→ Or in "Edit" if you wish to modify an existing article
Scroll down to find "Price lists", press "Create a price list".
You can now add the price lists you have previously created.
Define your item prices according to your price lists
Press "Save".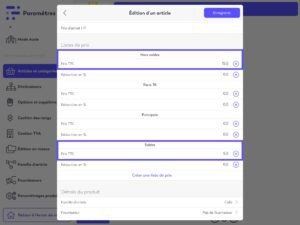 Happy hour #
To use this feature, please activate the "Happy hour" module.
Just as you can create several price lists for a single product, you can also add a happy hour price list.
This allows you to choose a time slot during which prices will be lowered.
Go to the "Happy hour" tab
Schedule your happy hour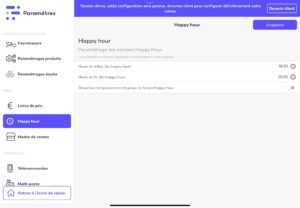 Once you've set the happy hour times,
Go to the "Sales methods" tab
Select the price list you want for each sales mode
→ In the various sales modes, you can find "Click and collect", "Delivery", "Takeaway" and "On site".

→ This allows you to define a price list dedicated to happy hour

Your items, depending on the time slot you define, will benefit from a price reduction.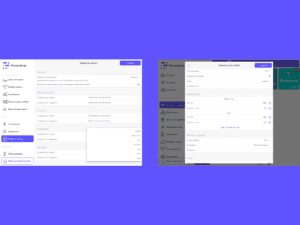 Further information #
Here is a list of features that are also related to price lists.
Pack → "Article pack" module

Formula → "Formulas / Menus" module

Declinations → "Declination management" module

→ You can also define multiple price lists in these 3 functions

Sales methods → "Delivery" + "Click and collect" + "À Emporter" + "Sur place" module

→ To complete the "Sales methods" tab

Mass publishing → "Mass publishing" module

→ If you wish, you can edit several items at once, thus managing price lists for several products simultaneously.

→ To do this, activate the "Bulk editing" module
Once activated, a "Bulk editing" tab appears in the settings menu, under "ITEM MANAGEMENT".